Advertisement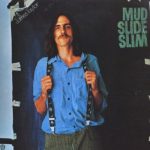 "Mud Slide Slim and the Blue Horizon" is James Taylor's third album, his second to be released through Warner Bros.
Containing his first and only #1 hit, "You've Got a Friend", "Mud Slide Slim" cemented James Taylor as a commercial and artistic force, eclipsing the landmark "Sweet Baby James" in sales. At the same time, it established him as a masterful interpreter of songs, which would serve him for years to come. The single also won Taylor his first GRAMMY Award, for Best Male Pop Vocal Performance.
With the addition of Leland Sklar on electric bass, Taylor's early 1970s band was solidly in place. The rhythm section of Sklar and Kunkel became synonymous with James Taylor, and the two became highly sought after session and concert players for the remainder of their careers. Carole King and Danny "Kootch" Korthmar both returned on piano, and electric guitar/second acoustic guitar, respectively. Peter Asher produced once more, largely sticking to and improving on the formula that had worked so well on "Sweet Baby James"'. Another addition to the band was background singer Abigale "Gail" Haness, who had become the lead singer in Kootch's band Jo Mama and appeared on King's first two solo albums "Writer" and "Music". Two other female voices added to the texture of the album. Joni Mitchell provided unmistakable backing vocals, as did James' sister Kate Taylor, who was embarking on a solo career of her own, along with brothers Alex and Livingston Taylor. Appearances by the Memphis Horns and banjo whiz John Hartford revealed the soul and country roots of his crystalized style.
"Mud Slide Slim and the Blue Horizon" reached #2 on Billboard's Pop Album chart. The debut single "You've Got a Friend" hit #1 on both the Pop Album and Adult Contemporary charts. "Long Ago and Far Away" was released as a follow-up single, but only made it to #31 on the Pop Singles chart. It hit #4 on the Adult Contemporary chart.
Label: Warner Bros.
Release date: April 1971
Producer: Peter Asher
Length: 37:07
Tracklist:
1. Love Has Brought Me Around
(James Taylor)
2. You've Got a Friend
(Carole King)
3. Places In My Past
(James Taylor)
4. Riding on a Railroad
(James Taylor)
5. Soldiers
(James Taylor)
6. Mud Slide Slim
(James Taylor)
7. Hey Mister, That's Me Up on the Jukebox
(James Taylor)
8. You Can Close Your Eyes
(James Taylor)
9. Machine Gun Kelly
(Danny Kortchmar)
10. Long Ago and Far Away
(James Taylor)
11. Let Me Ride
(James Taylor)
12. Highway Song
(James Taylor)
13. Isn't It Nice to Be Home Again
(James Taylor)
Musicians:
James Taylor: acoustic guitar, vocals, piano
Peter Asher: background vocals, tambourine
Richard Greene: fiddle
Abigale "Gail" Haness: background vocals
John Hartford: banjo
Wayne Jackson: horn
Kevin Kelly: piano, accordian
Carole King: piano, background vocals
Danny "Kootch" Kortchmar: electric guitar, acoustic guitar, congas
Russ Kunkel: drums, congas, cowbell, small cymbals, cabasa, tambourine
Andrew Love: horn
The Memphis Horns: horns
Joni Mitchell: background vocals
Leland Sklar: bass
Kate Taylor: background vocals
Additional personel:
Peter Asher: producer
Lee Herschberg: CD remastering
Laurie Miller: liner artist
Richard Sanford Orshoff: engineer
The Record Group: CDD pre-mastering
Ethan Russell: cover photographer
Ed Thrasher: art director
Singles:
*You've Got a Friend / You Can Close Your Eyes – Summer 1971 – #1 Pop Single & Adult Conteporary
*Long Ago and Far Away / Let Me Ride – 1971 – #4 Adult Contemporary / #31 Pop Single