Words For a Fallen Friend
By Randal "RW" Walker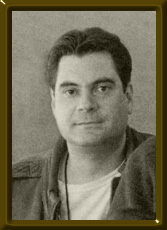 I can't seem to remember a day without hearing the incredible groove performed by Carlos. His playing for me has always been an inspiration and a source which all is based upon.
I was born and raised in Los Angeles -- primarily Glendale -- and Carlos was raised in Eagle Rock. We met while I was attending the Musicians Institute in Hollywood. I would go to all the local clubs at the time like the Ice House in Pasadena, The Potato, Golden Bear, At My Place and Madame Wong's. These were the clubs where I first got the chance to experience Carlos as a drummer. My next full-fledged power Carlos performance would be attending a Larry Carlton show at the Wiltern.
We found out that we were living only miles apart from each other and bonded as both drummers and friends. He would eventually move to La Canada, which is just up the hill from Glendale. This would be his final home, which he shared with his wife of fifteen years and their two daughters.
We have hung out a many times watching and learning -- he with either James Taylor or Burning Water or even Karizma -- sitting on a tour bus in Carolina listening to Latin CDs practicing our stick technique while Jimmy Johnson would try and read a book. It's still funny to this day. As I sit here clouds seem to appear out of nowhere and I still get chills when listening to his playing. I learn so much more everyday about his playing and his phrasing on the instrument -- things I did not catch after the one hundreth listen.
I still see his face as he told about a true find out of his neighbor's attic, an old timbale from the sixties. He really dug this drum so much that it accompanied him on the Monque Bon tour 94-95, where he'd fit it into the show off to the right.
Carlos Vega was born in Cuba on December 7, 1956 and brought to the U.S. at an early age. He grew up in L.A. with most of the major session cats of this era and went to high school with Mike Landau, Jeff Porcaro, and Steve Lukather…
In 1975 he co-formed a band called Karizma with a close friend of his by the name of David Garfield. They recorded their first CD in 1983. 1975 would find Carlos on the road with a rising teen idol by the name of Shaun Cassidy. The keyboard player in this band was Jimmy Greenspoon of Three Dog Night fame. Carlos' star would begin to shine at this point, being called upon for various sessions and live performing.
It would be a short time when Larry Carlton would be calling upon the silky groove of Mr. Vega. I might point out at this time another very infamous session drummer of the seventies and eighties and very early nineties would find Carlos to be his idol, his name was Jeff Porcaro. Jeffrey really dug the way Carlos played, not too many people know of this.
The eighties would have Carlos performing live with many artists such as Larry Carlton, Karizma and a budding talent named Vince Gill. The friendship of these two goes back many years. When Vince left Pure Prairie league, Carlos was called upon to lay the foundation for Mr. Gill's new sound. It would not be until the early nineties that the two would reunite in recorded performance.
In the middle 80s James Taylor asked Carlos to join his touring lineup, but this would not stop his relentless pursuit at studying and performing in the studio. In 1985 Carlos was asked to be a part of a memorable live performance, taped live in front of an audience featuring such performers as Dave Grusin, Diane Schuur, Lee Ritenour, and Abe Laboriel. This show would be the groundbreaker for many to come.
The late 80s and early 90s found Karizma recording four CDs for Japanese release. In 1992 Carlos formed yet another band called Burning Water with fellow JT alumnus Michael Landau. Jumping back a few years, Carlos performed some fine grooves on Linda Ronstadt's album entitled "Cry Like a Rainstorm, Howl Like the Wind."
1992 was a trying year for many. When Jeff Porcaro left us in a very tainted accident, it changed everything for the L.A. studio scene. Carlos and I sat on a bus reflecting about where we were how and why it all happened. By then Carlos had two daughters whom he doted on fondly and was constantly talking about. He was a very loving father and we were involved in the Indian Princess organization. Sponsored by the YMCA, these are groups of fathers and daughters much like what cub scouts are to boys. It involved things like hiking trips, boating excursions to Catalina Island and the making of beaded necklaces. He loved this time with his girls and the other fathers. It was still another side of Carlos know one would ever see -- just the smiling face behind the tubs we would grow to love.
He also loved to stay up late and listen to all types of music like Primus, Hendrix, Zeppelin, and Latin discarga to name a few. In the recent years he had gone back to studying drums, relearning his grip and playing more hand percussion.
April 1998 is a time I will never forget, nor will any of his close friends like Lenny, Abe, Lee, David Creatchy, Luke, Mike, JT, and all he touched. I truly thought August of 1992 was the hardest time of my life when Jeff Porcaro died and I found myself flying home to bury a close friend and inspiration. Not true. 1998 was out and out the most trying time of our lives. Getting up at 4 A.M. to catch the flight arriving in Burbank. The shuttle ride from the airport to the rental agency in North Hollywood. A rental car taking me to the Sky Rose Chapel in Whittier, CA. This would be the hardest of all to swallow.
How and why I cannot go into here with you. I understand it. I might not agree whole-heartedly with it, but this is the way he wanted it.
A picture of the man hangs above the stage he once played in North Hollywood at The Baked Potato. It's a shrine from fellow musicians to a fallen brother. He loved this little club and spent many a night either jamming here or just hanging enjoying the vibe. Words just cannot convey how much he is missed in the music circle. We move on with the memory in our hearts and the thought of someday being together again gigging in the big club above.
A small discography of some favorite performances:

Burning Water
Seftitled
Mood Elevator
Live and lit
Abbandinato 

Karizma
Dream come true
Cuba
Forever in the arms of love
Live

Riding Bean
[Karizma in disguise] for a Japanese cartoon

GRP Live in session

Los Lobotomys

Reba Mcentire
Read My Mind
Starting Over

Vince Gill
I Still Believe in You
When Love Finds You
High Lonesome Sound

James Taylor Live